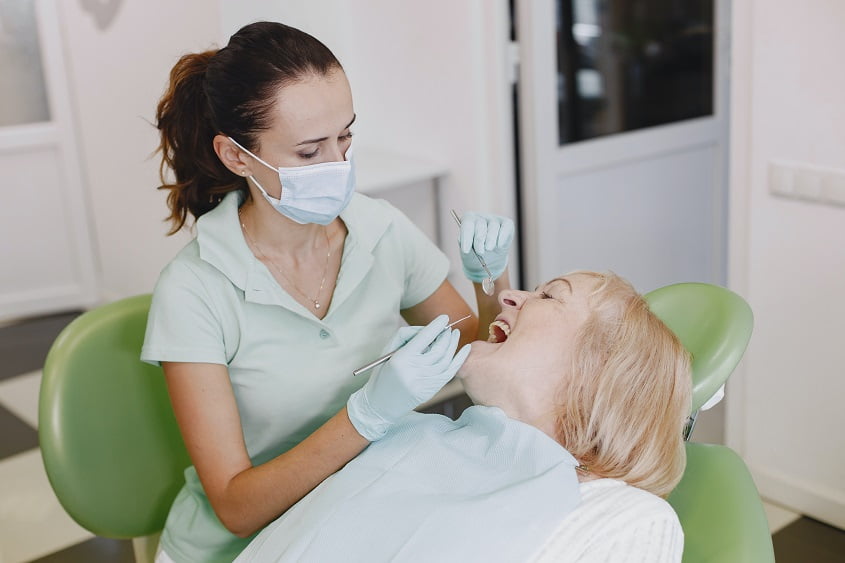 As you journey through life, your body naturally undergoes numerous changes, from shifts in your metabolism to the emergence of fine lines. One area you might not immediately consider is the shift in your oral health.
Much like the rest of your body, your oral condition evolves with age, often requiring additional care and consideration to maintain optimal health. As a result, your dental care routine requires more dedication and diligence, coupled with an appreciation of the unique challenges that come with aging.
In this article, we will discuss the important aspects of oral health changes in senior adults. We will also highlight the dietary and dental hygiene requirements to ensure optimal oral health as you age.
Common Dental Problems in Seniors:
Tooth decay is a common issue in seniors, particularly around old fillings or in the root of teeth with gum recession. However, they are treatable if diagnosed early. The common treatments include fluoride application, filling, and root canal therapy (RCT).
Gum disease, often a result of plaque build-up, is another prevalent problem affecting oral health. It can lead to profuse teeth bleeding, swelling and pain in gums, and tooth mobility. If left treated, you may have to get your tooth removed.
Tooth loss does not only occur due to tooth decay and gum diseases. It can also be associated with other health issues like poor nutrition, diabetes, and tumors. For those who have experienced tooth loss, solutions such as dental implants offer an excellent way to achieve a great smile. Even though they are expensive, they can mimic the function and appearance of teeth. Those who cannot afford implants can consider other options like bridges and dentures.
Factors Affecting Seniors' Dental Health:
The alterations in dental health as you age are influenced by several factors, including systemic health, dietary habits, oral hygiene practices, and the natural wear and tear of teeth.
Firstly, systemic conditions associated with aging can significantly impact oral health. Diabetes, for example, can lead to an increased risk of periodontal (gum) disease, dry mouth, and thrush, a type of fungal infection.
Similarly, conditions like atherosclerosis (clogged arteries) and stroke have been linked to inflammation caused by oral bacteria, underscoring the importance of proper oral care. Certain medications can also lead to conditions like dry mouth, which increases the risk of cavities.
Furthermore, mobility issues may prevent older adults from practicing thorough oral hygiene, contributing to dental problems. Reduced income or lack of dental insurance in retirement can also affect access to regular dental care, influencing the overall oral health status of seniors.
Importance of Regular Dental Checkups:
Just like regular medical appointments, dental checkups are important to maintain optimal oral health, and this importance only increases with age.
Regular dental visits can help you detect and diagnose oral health problems early, often before you notice any discomfort or visible symptoms. This can lead to more effective and less invasive treatment, helping preserve your natural teeth and maintain oral health.
During a dental check-up, your dentist will examine your teeth and gums for signs of decay, gum disease, and other oral health problems. They will suggest ways to improve your oral hygiene and recommend toothpaste or mouthwash for your problems, such as sensitivity and bad breath.
Effective Oral Hygiene Practices for Aging Adults:
Maintaining proper oral hygiene becomes more important as you age. This includes brushing at least twice a day using toothpaste containing fluoride and flossing once a day to remove plaque between teeth and along the gum line. Using an antibacterial mouthwash can also help reduce bacteria that cause plaque and gum disease.
If arthritis or another condition makes brushing difficult, consider using an electric toothbrush. Water flossers and interdental brushes can be effective alternatives for those who cannot floss properly.
Remember to drink at least eight glasses of water each day to prevent mouth diseases that may develop due to dry mouth. Lastly, limit the consumption of sugary and acidic foods and drinks that can contribute to tooth decay.
Importance of a Balanced Diet in Dental Health:
For seniors, maintaining a balanced diet can be particularly essential for oral health and overall well-being.
Consuming various foods from all food groups helps ensure your body gets all the nutrients it needs. A diet rich in fruits, vegetables, and lean protein and low in sugar prevents the growth of oral bacteria and hence tooth decay.
Calcium-rich foods like dairy products and leafy greens help maintain strong teeth and bones, while vitamin C found in fruits and vegetables supports healthy gums. Moreover, staying hydrated is essential, especially for those dealing with dry mouth.
Make sure to avoid sticky and hard foods, as they can damage your natural teeth and dental appliances. Lastly, limit alcohol and avoid tobacco products, as they can increase the risk of oral cancer and other dental issues.
How Does Dental Health Affect Overall Well-Being?
Good oral health significantly impacts the quality of life, influencing physical, mental, and social well-being.
Physically, it ensures proper functionality in terms of eating and speaking. Conversely, poor dental health can give rise to discomfort, tooth loss, infections, and in severe cases, contribute to serious diseases like oral cancer.
Dental health also has a profound impact on your social well-being. The appearance of your teeth and the quality of your breath can directly affect your confidence and self-esteem. Discolored, missing, or unhealthy teeth might make you hesitant to smile or speak, leading to decreased social interaction and potential isolation. In contrast, a healthy and bright smile can boost confidence, encouraging more social engagement.
Conclusion:
While aging does present some challenges to maintaining oral health, most of these can be combated with simple practices. As the saying goes, prevention is better than cure. Regular check-ups, a balanced diet, and good oral hygiene practices can go a long way in maintaining good dental health and overall well-being.
Dental health is not just about maintaining a beautiful smile. It's about preserving the ability to eat and speak comfortably, preventing the discomfort of dental disease, and enhancing overall well-being. Remember, age is just a number (your oral health can decline at any age), and it's never too late to take control of your oral health!