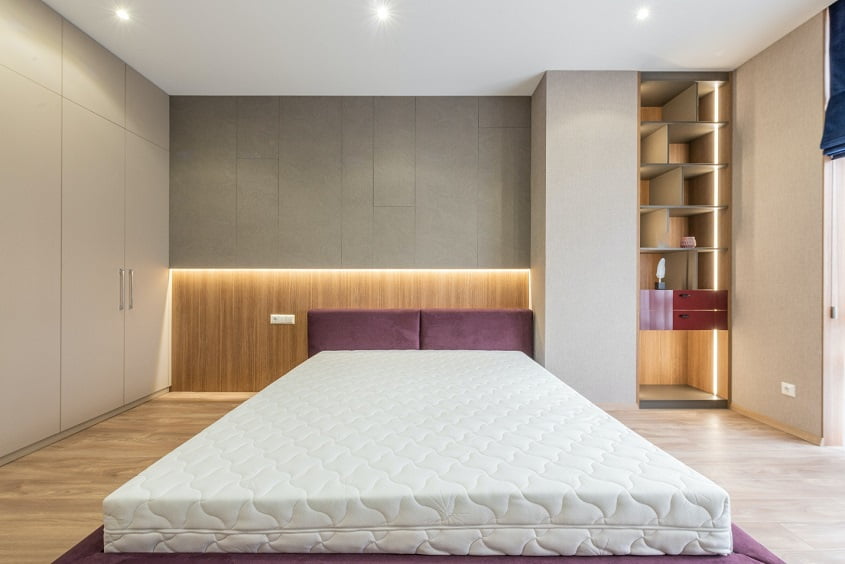 Our bed is not just a piece of furniture; it's a haven of relaxation, comfort, and rejuvenation. Whether we're curled under the blankets, engaged in a good book, or drifting off to sleep, our bed is where we spend considerable free time. Given how much time we spend in bed, it is crucial to have a mattress that encourages sound sleep, keeps our bodies feeling rested, and is pain-free.
However, it can be difficult to determine which mattress is best for your back, given the wide range of options available. There are several things to consider while purchasing a mattress that perfectly supports your back. This article will guide you in choosing the ideal mattress according to your preferences:
Test the Mattress
Finding the ideal mattress is a challenging task. However, it is an important investment in your health and well-being that needs to be carefully thought through. Therefore, before making a purchase, it is essential to investigate your options thoroughly. Don't worry about embarrassment; it is common practice to lie down for fifteen minutes to test a mattress to make an informed choice.
As you test out each mattress, ask yourself the following crucial questions: "Does it feel supportive?" Does it feel too hard or too soft? These opening questions will aid in evaluating the quality of the mattress and inspire more questions to pose to the seller. Feel free to inquire about refund policies or free trials. Many platforms like SleePare Mattress Store offer mattress testing for a long time before you decide on one. Observing the quality of the mattress by testing it physically at the store can be a good opportunity.
Last, but not least, ask about the guarantee. Most high-quality mattresses have a 10-year warranty, but double-checking the specifics is always a good idea.
Check the Mattress Type
If you have just begun looking for a new mattress, you may have realized many options are available. Consider mattress type as a starting point:
To help make sense of everything, it's important first to understand the five main types of mattresses:
Foam: these mattresses are comprised of foam, offering great pressure relief, motion isolation, and contouring. They are ideal for side sleepers and couples seeking a supportive and comfortable night's sleep.
Hybrid: this type of mattress combine a strong foam comfort layer with an innerspring support core. Hybrids are a fantastic alternative for sleepers in any position since they combine bounce and contouring with less heat retention.
Latex: The support core and comfort layers are made completely of latex rubber in these mattresses. When designed with natural and organic latex, they provide excellent bounce and durability with mild contouring, making them popular among eco-conscious consumers.
Airbeds utilize an air chamber as their help center, permitting sleepers to change the solidness with a button.
Innersprings: This type of mattress uses loop-based supportive networks and lacks pressure alleviation. Moreover, their sleeping surface is more bouncy and does not completely isolate motion. They are a popular option for shoppers on a tight budget.
Adequate Mattress Thickness
For people with back pain, picking the right mattress is very important. It's important to have a mattress that supports you without making you feel like you're sinking into quicksand. Therefore, find a mattress that perfectly balances thickness and firmness. Even though the standard height of orthopedic mattresses is between 6 and 10 inches, some people may prefer a mattress that is only 5 inches thick.
A mattress topper, on the other hand, is a viable option for those who want to raise their bed by a few inches. These toppers give you an extra 2 to 3 inches of height and make you feel more comfortable overall. You can wave goodbye to discomfort and say hello to a good night's sleep by selecting the ideal mattress thickness.
Consider Your Sleeping Position
The type of mattress that will work best for you is greatly influenced by the position you prefer to sleep in. For instance, if you prefer to sleep on your back, selecting a medium-firm mattress to support the natural curve of your spine is best. On the other hand, a softer mattress supporting your shoulders and hips is strongly advised if you want to sleep on your side. Additionally, a firmer mattress is essential if you sleep on your stomach to prevent your lower back from sinking too much. You can identify the mattress that will give you comfort and support by carefully analyzing your preferred sleeping position.
Consult Your Chiropractor
With regard to tracking down the ideal mattress for your back, consulting your chiropractor can be helpful. Although they may not be experts on the most recent mattress trends, they have an unparalleled comprehension of the particular condition of your spine and its requirements. As a result, their insights can be important in recognizing the best mattress to ease your uneasiness and support your spine.
You can even get personalized advice from your chiropractor. Their recommendation can be useful when navigating the maze of advertisements and sales pitches. In the end, you are more concerned with choosing the best mattress that meets your individual needs than you are with sales gimmicks or special offers.
Consider the Mattress Size
A crucial step in selecting the ideal mattress size is measuring the inner dimensions of your bed. It will guarantee a perfect fit and prevent any unsightly gaps or overhangs from appearing. Also, let's face it: a mattress that fits like a glove is much more attractive than one that looks like it was thrown together haphazardly.
However, it's not just about looks – an appropriately estimated bedding can significantly affect the nature of your rest. After all, no one wants to feel constrained or confined when trying to get some sleep. So to get a good night's sleep, you need a mattress that lets you roll over, stretch, and turn in enough space.
Conclusion
Making the best mattress choice for your back is crucial since it can greatly impact your health and quality of life. However, by considering your desired sleeping position, speaking with your chiropractor, and trying out several mattress types, you can locate the ideal mattress suitable for your particular requirements. Be patient, ask questions, and prioritize your comfort and spinal health. You can make an informed decision and have a restful and rejuvenating night's sleep if you keep these points in mind.