Leg swelling in older people is generally temporary in nature and passes off without any specific medical treatment. If left unattended for a longer period of time, it leads to immobilization. Also known as edema, leg swelling is mostly caused by fluid build-up in the body. However, it can also be a result of inflammation in the body.
Causes of leg swelling
Fluid accumulation means excess fluid build-up within the tissue spaces (edema). Generally, fluid flows in and out of the tissue spaces and blood vessels to carry nutrients, oxygen, carbon dioxide, or waste. The return of fluid to the heart is against the power of gravity. Therefore, any problem of excess fluid within the body leads to fluid accumulating in the legs before arising in other parts of the body. That is why leg swelling or edema sometimes indicates underlying health problems in the body.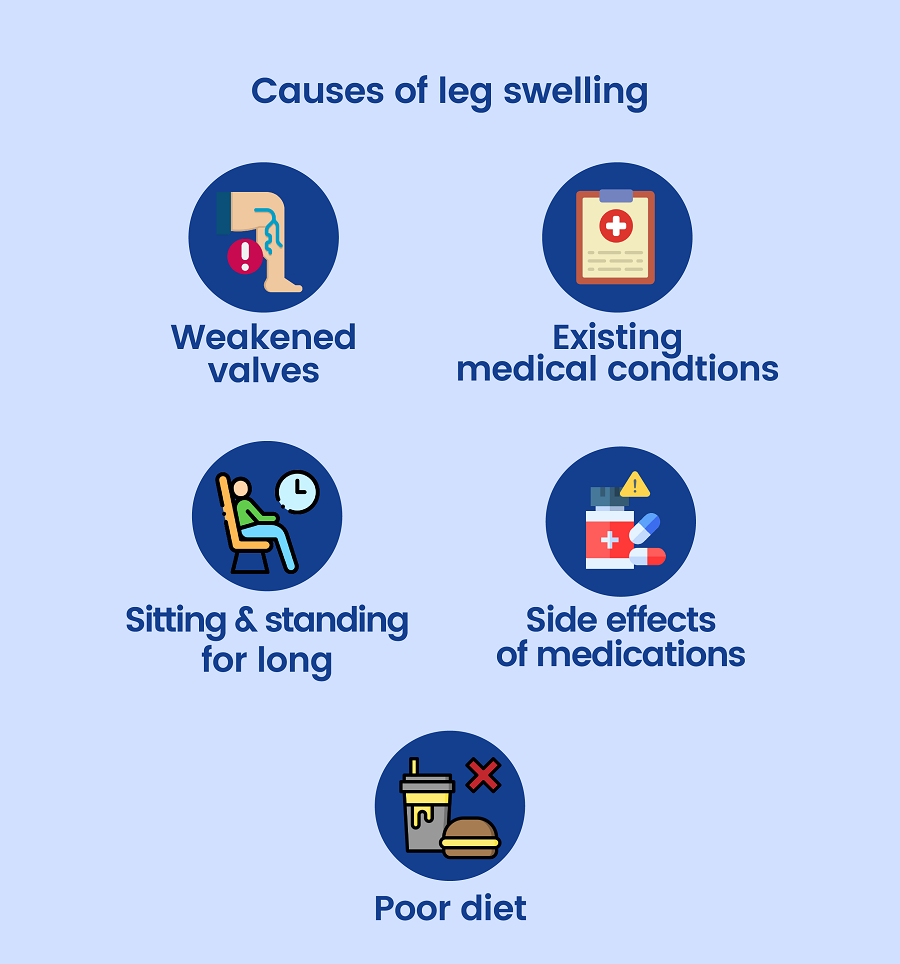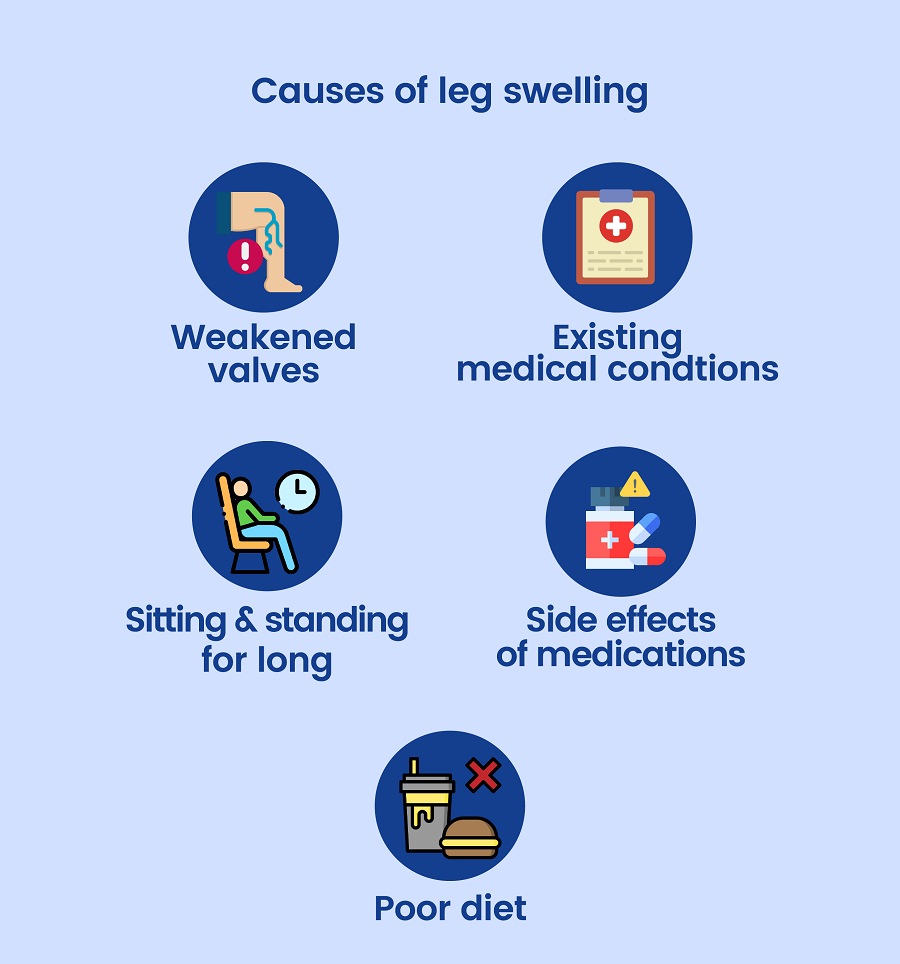 The most common causes of leg swelling in seniors are as follows:
1. Weakened valves
If the valves in your veins are weak, it becomes increasingly difficult for the veins to push blood back up to the heart. Also known as Venous Insufficiency, this condition can lead to varicose veins and causes fluid accumulation in the legs.
2. Existing medical conditions
Fluid may also accumulate in the legs due to a number of health issues you might be suffering from. These could include the following:
Liver damage (cirrhosis)
Heart failure
Lung diseases such as emphysema or chronic bronchitis
Kidney disease
Thyroid imbalance
3. Side effects of medications
There are a few medications that can cause edema as a side effect. These are:
High blood pressure medications
Pain management medications
Nonsteroidal anti-inflammatory medicines
Steroid medicines
Some diabetes medications
4. Sitting or standing for long
People who spend an extended amount of time sitting or standing in one place can suffer from edema. In this situation, water naturally pools down into the feet and legs and eventually causes dependent edema.
5. Poor diet
Your diet can play a significant role in leg swelling. Consuming foods high in salt (sodium) can lead to fluid build-up in different parts of your body.
6 Natural remedies to treat swollen legs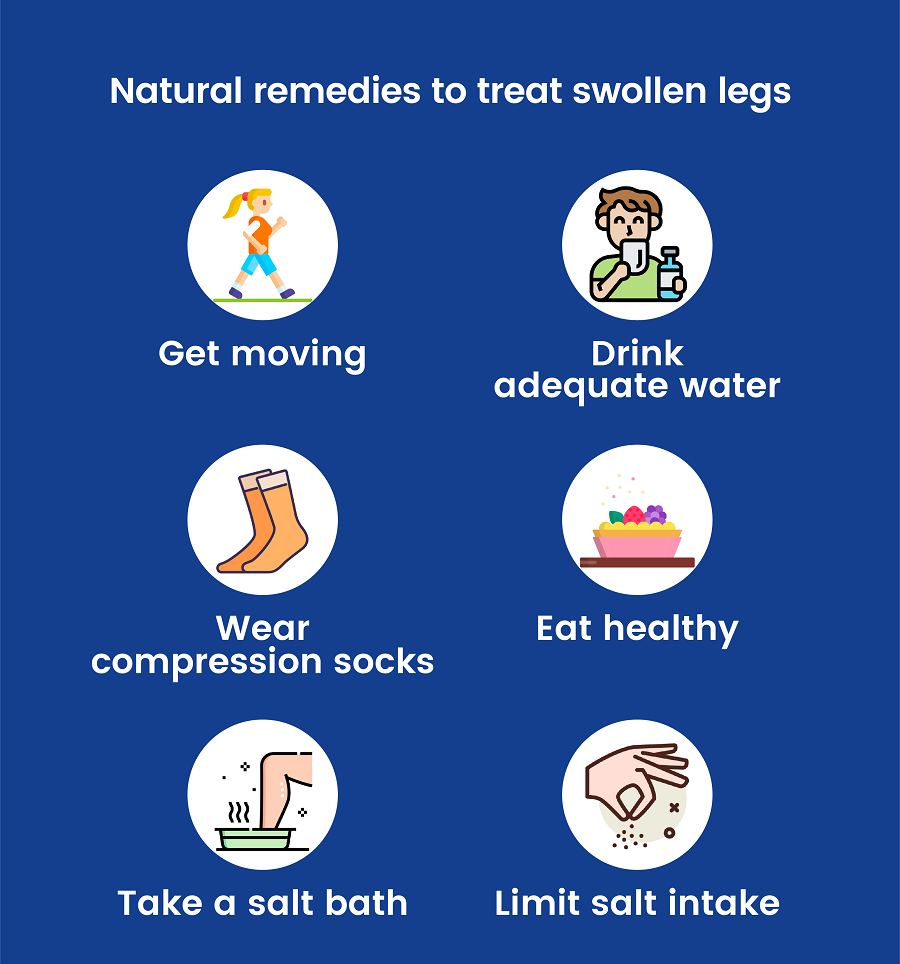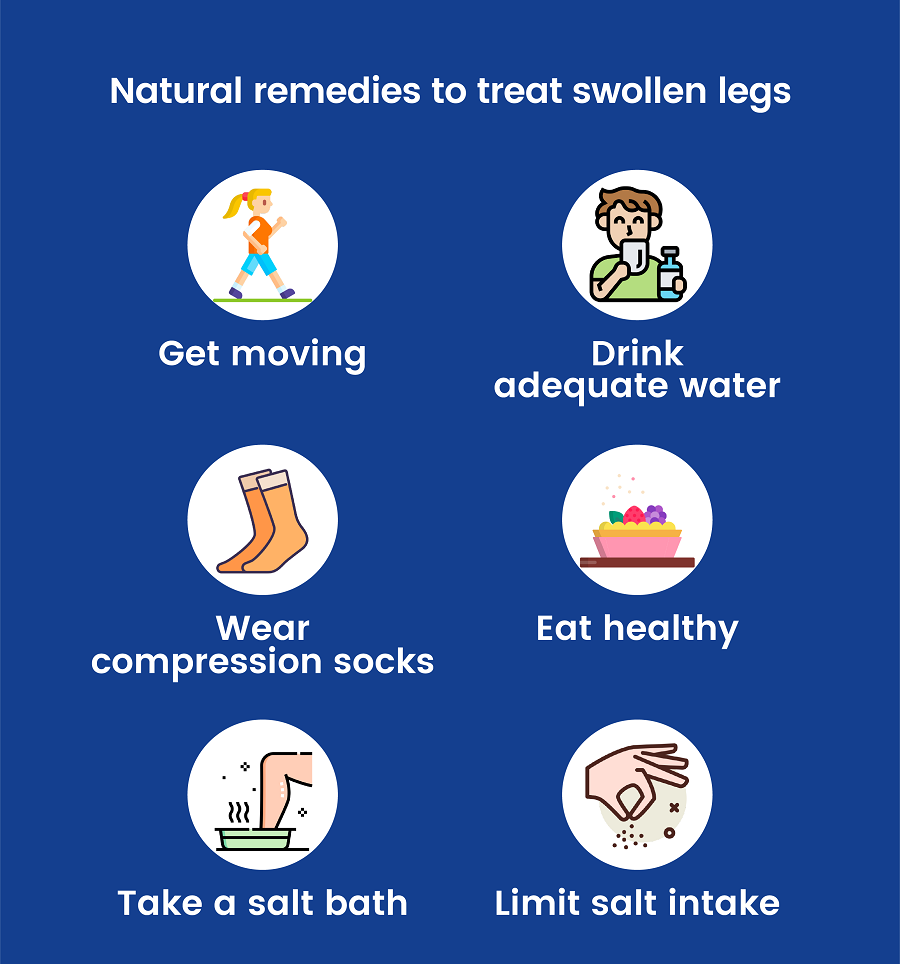 Edema or leg swelling is easily treatable at home if no underlying health complications are involved. Here is a list of 5 effective natural remedies to relieve leg swelling.
1. Get moving
Light exercise is crucial to prevent edema in the elderly. Exercise promotes blood flow and fluid circulation in the body by helping the muscles to function smoothly. Seniors should walk around the house in short intervals to avoid sitting or standing for too long at a place. Also, if health permits, go swimming once in a while.
In addition, elevate your feet by raising your legs slightly above your heart when sitting or lying down. This process helps counter the effect of gravity on blood circulation.
2. Drink adequate water
One of the key reasons behind leg swelling is excess salt in your body. Increasing your fluid intake can dilute the salt content in your body and provide relief from leg swelling. Also, if your body is suffering from dehydration, it will try to store the remaining water instead of excreting it through urine or sweat. This reaction can also result in swelling.
Seniors suffering from edema should drink at least 8 glasses of water every day. Also, try to avoid alcohol consumption as it tends to dehydrate the body.
3. Eat healthy
Eat a well-balanced diet rich in anti-inflammatory foods like berries, oranges, olives, nuts, and fatty fish like salmon, mackerel, tuna, and sardines. It will significantly reduce the risk of edema associated with joint inflammation.
Besides, doctors often recommend incorporating magnesium-rich foods such as dark leafy vegetables and legumes to prevent leg swelling. Make sure to add adequate potassium-rich foods such as bananas, sweet potatoes, beans, and spinach, to help relieve edema.
4. Wear compression socks
Compression socks are very effective at reducing leg swelling. It creates continuous pressure on the legs and the feet. Therefore, it prevents fluid from accumulating in the legs. These socks are also effective in reducing the risk of edema caused by blood clots.
There's a wide range of compression socks available on the market. It is wise to start with compression socks with 12mm to 15mm, or 15mm to 20mm of mercury. Follow your physician's guidance before opting for compression socks.
5. Take a salt bath
Epsom salt is another effective home remedy that can eliminate edema. The salt draws out toxins from your body and eases swelling.
To get the most effective result, soak your legs for 15 to 20 minutes in lukewarm water with Epsom salts. Make sure that the water covers your legs up to your knees.
6. Limit salt intake
High sodium intake triggers fluid retention in the body and leads to swelling. Avoid processed foods, meat, etc. as they contain high sodium levels. Use a limited amount of salt in cooking and avoid sprinkling salt on salads or foods when eating.
Professional medical treatment for swollen legs
While swelling of the legs is mostly a non-emergent medical condition, t may also sometimes indicate a blood clot in your lungs or other serious issues. Seniors must seek immediate medical help if any of the following symptoms appear along with leg swelling.
Difficulty breathing
Shortness of breath
Dizziness
Chest pain
Coughing up blood
Swelling from a physical injury
Doctors often suggest blood thinners and anti-inflammatory medications for leg swelling. But if any severe health complications are involved, hospitalization may be needed. You can visit EliteCare Health Centers for health and wellbeing screenings.
Summing It Up
Leg swelling is not a severe health complication and is easily treatable at home most of the time. However, it is a painful condition that can create mobility issues in seniors and affect their quality of life. Therefore, make sure to consult a physician to ensure early diagnosis and treatment.