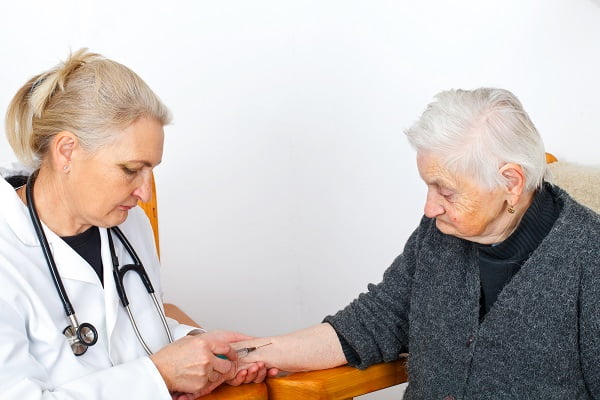 Alzheimer' and its association with vaccines as a treatment
Alzheimer's disease is a neurological disorder which leads to loss of brain functions such as memory, language, spatial orientation, behavior, etc and later results in death. There is no cure for Alzheimer's disease because the actual cause is unknown but various studies are being conducted to find the cure or to reduce its effect to minimum.
Several pharmacological, psychological and immunological approaches are conducted to treat Alzheimer's disease. A study reflected that new advancements in treating Alzheimer's disease are found to be better and cheaper with long-term therapeutic effects and with minimum adverse effects. Vaccination for Alzheimer's disease is one such new approach and is currently acknowledged in the scientific community.
Developing vaccines for Alzheimer's disease: Is it beneficial?
Multiple clinical trials are being conducted to examine the benefits of developing vaccines for Alzheimer's disease. Elan pharmaceutical was the first to discover active immunization (as a vaccine) in 1999 after conducting several clinical trials.
A recent development in this field to treat Alzheimer's involves active immunization in which a new type of vaccine is designed to trigger the body's immunity and defense mechanism. This advancement by Lancet neurology improved the efficacy of vaccines that were used to treat Alzheimer's disease.
Vaccines work for Alzheimer's disease
Deposition of plaque in brain is reduced through vaccines. DNA vaccines are prominently recommended and are beneficial for this purpose. These kinds of vaccines generate immune responses to reduce the effect of the disease. Several vaccines are used as pathological markers to reduce neurological inflammations. Multiple trials are being conducted to bring down the undesirable effects of vaccines. New therapeutic interventions involve immunological development with pharmaceutical method to control the disease.
Promoting Vaccines for patients: Future trends
When Elan's trial of the vaccine was discontinued, the main reason was that about 6% of the patients suffered from severe brain inflammation and reported discomfort. This inflammation could be life-threatening; therefore several clinical trials were then conducted to improve this version of vaccine.
It is believed that the future of vaccination to treat Alzheimer's disease is promising only when the autoimmune reactions are conquered and no side effects are observed. If Alzheimer's vaccination is proved successful, the base of developing such vaccines can be helpful in curing similar diseases such as Parkinson's disease, encephalitis, etc.
Doctors say that because research has still not shown great proven results, it sometimes become heartbreaking to be not able to completely handle or cure Alzheimer's patients. Caregivers of Alzheimer's patients also note the changes in the patients' behavior such as anger outburst, sleep problem, repeating stories and statements, hallucinating, etc. These patients themselves feel changes initially and this triggers depression in them.
Scientists are working on developing new improved drugs to reduce the effect of Alzheimer's disease. Several pieces of research suggest that patients can be immunized during the initial stages of Alzheimer's with the help of improved targeted drugs or vaccines. Anti-tau vaccine is given to Alzheimer's patients (as a complementary drug) to stabilize the main drug and increase the effectiveness of the vaccine and to improve brain functioning. Studies are being conducted to reduce the side-effects of these targeted drugs to minimum.
Conclusion
Through recent developments, on-going trails and several pieces of research, it has become clear that in the near future, Alzheimer's could be treated easily in an effective and safe way. Researchers are working to provide safe and effective therapies to treat the disorder or to at least prevent the onset of Alzheimer's.
Recent studies focus on active vaccinations as a preventive treatment for Alzheimer's disease. Tau vaccines are beneficial during Alzheimer's treatment but some studies have shown minor side effects such as skin allergies, etc. Side effects of vaccines such as inflammation can be subsided (in maximum cases) when the dosage of these vaccines are stopped.