Coronaviruses (CoV) are a large group of viruses responsible for causing several illnesses among people. These illnesses may range from common cold to more severe diseases such as novel coronavirus disease (COVID19).
The novel coronavirus is a new strain of viruses identified in humans. Coronavirus is zoonotic and gets transmitted between animals and people.
Fast Facts About COVID-19
COVID-19 can affect anyone regardless of their race, ethnicity
COVID-19 is an outbreak of a new respiratory disease which originated from Wuhan, China, in late 2019.
People who have been quarantined for a long time and are released from isolation are not harmful to others
You can prevent COVID-19 by knowing the symptoms and following the precautionary measures
There is no vaccine available against COVID-19 till now
The disease has become a global pandemic and has claimed the lives of more than 163,886 people with more than 2,378,000 people infected globally
COVID-19 was declared as a public health emergency of international concern on Jan. 30 by WHO.
MORE ON THIS PAGE:
The novel coronavirus was named as "COVID-19" by the World Health Organization on 11 February, 2020.
CO stands for "Corona"
VI stands for "Virus"
D stands for "Disease"
What are the Main Symptoms of COVID-19
COVID-19 exhibits symptoms which may range from mild to severe enough to cause death. Following are some of the common symptoms that usually appear after 2-12 days of exposure.
High body temperature (usually above 100)
Sore throat
Coughing
Shortness of breath
Weakness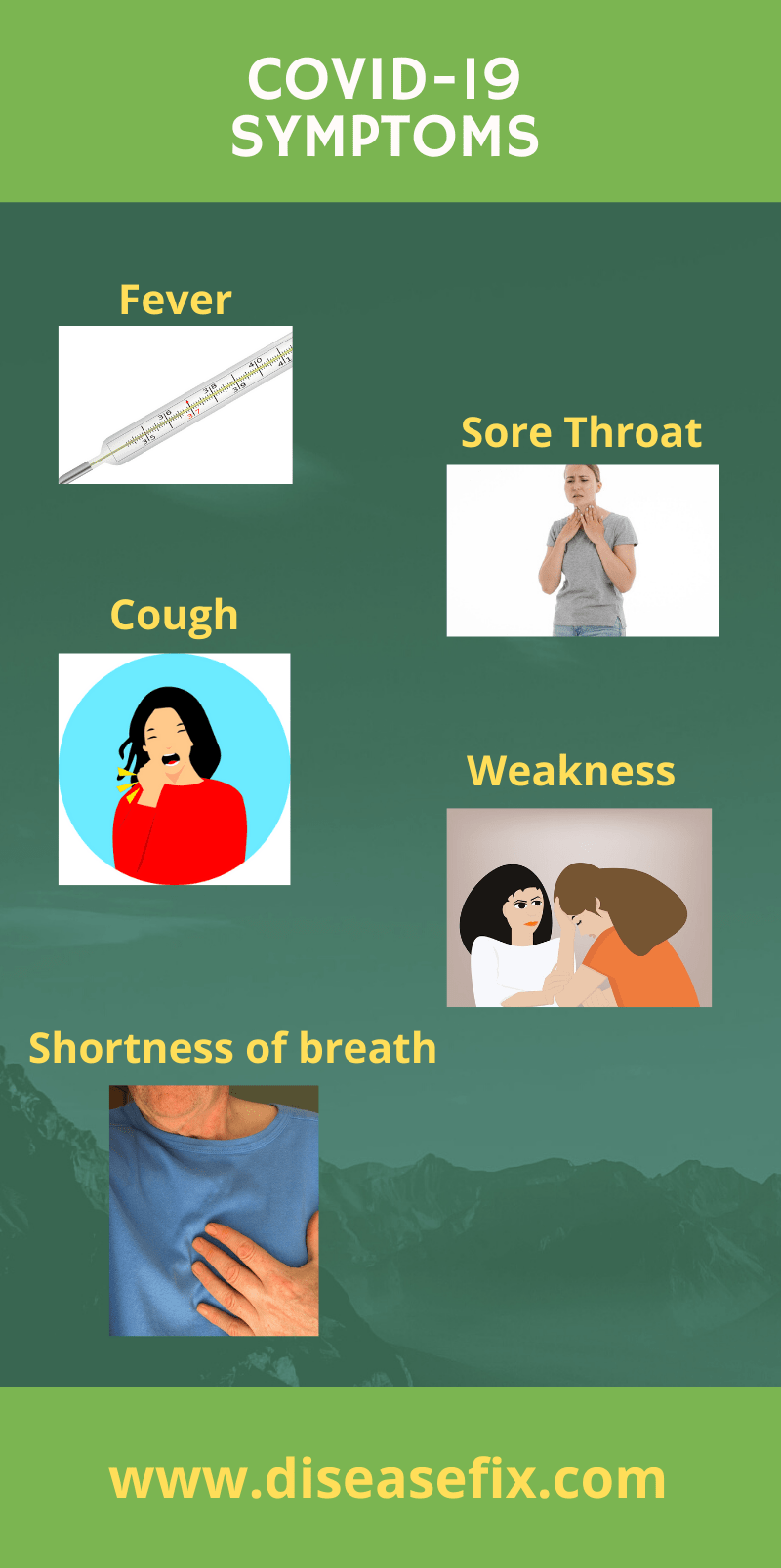 All these symptoms resemble common flu and may not necessarily indicate that you have contracted the infection.
Origin of COVID-19
The cases of COVID-19 were first reported in Wuhan, China in December 2019. The cause of the disease was soon known to be a new kind of coronavirus. The COVID-19 has been considered a global pandemic and has spread to different countries around the world including the USA, Italy, Iran, South Korea, Japan, UK, France, Australia, Spain, Philippines, Germany, Turkey, Russia, Brazil, Thailand, Taiwan, India, Belgium, and Canada.
Coronaviruses mainly spread from one person to another under following circumstances:
If you are in close contact with an infected person (almost within a distance of 6 feet)
If you inhale the infected respiratory droplets that are produced by the infected person while coughing or sneezing
If you come in contact with the objects or surfaces that have been previously touched by the infected person
Tips for Avoiding COVID-19 Infection
Since the coronavirus outbreak is rapidly occurring in different countries, we should be aware about different protective measures against this highly contagious and deadly virus.
One should take care of themselves and their loved ones by simply following some precautionary measures suggested by the "World Health Organization (WHO)":
Maintain Hand Hygiene
You should maintain good hand hygiene by cleaning your hands frequently with an alcohol based sanitizer or hand wash or with soap.
Hand sanitizers and washes can kill the viruses that may be present on your hands.
Avoid Social Gatherings
You should maintain a distance of at least 3 feet from a person who is coughing or sneezing. People release some infectious droplets while coughing and sneezing which may be containing the COVID-19 virus. Therefore maintaining distance can help you in avoiding the exposure to the virus.
Avoid Contact With Your Eyes, Nose, and Mouth
You should avoid contact with your eyes, nose, and mouth especially because your hands touch different surfaces and some of them may be contaminated with the viruses which can easily enter your body through the hands.
Ensure Respiratory Hygiene
You should practice a good respiratory hygiene for avoiding the COVID-19 virus infection.
Cover your nose and mouth with your bent elbow while coughing or sneezing.
You can also use tissues and then discard them immediately. This can help protect other people around you from exposure to COVID-19 virus and other common viruses as well.
Seek Early Medical Care
If you feel symptoms like fever, cold, or difficulty in breathing, you should seek an immediate medical care so that your health care provider can direct you to the right medical facility.
Seeking early medical care can also prevent transmission of disease to others.
How Can You Prevent Yourself Against COVID-19 Infection?
Currently, there is no medication or treatment available that can be useful for preventing the disease. However, some precautionary measures can be taken for avoiding the virus exposure. These include:
Avoid contact with sick people
Stay at home if you feel flu like symptoms
Cover your mouth and nose with a tissue while coughing or sneezing and then discard the tissue
Use face masks as per the recommendations of CDC
Clean your houses and work places using household disinfectant sprays
How Should You Use a Face Mask?
Face masks should be used by people who have symptoms similar to that of the COVID-19 so that they cannot spread the disease to others.
Health workers and other people who work in close settings with the infected people should wear face masks both at home as well as in healthcare facility.
Following steps should be taken while using face masks:
Before using a mask, wash your hands with an alcohol-based hand wash or rub your hands with an alcohol-based hand sanitizer
Cover your mouth and nose with a mask in a way that there is no gap between your face and the mask
Do not touch your mask when you are using it
Do not re-use single use masks
Replace the masks if you feel it is damp or clammy
Remove the mask from behind and do not touch the mask from the front side. Discard the used mask immediately and wash your hands with soap.
Is There Any Treatment for COVID-19?
Currently, there is no treatment for corona virus. But people can avoid its transmission by following the above mentioned tips.
Besides, supportive care and early medical intervention can help people affected by the disease. In severe cases where vital organs may get affected by the disease, treatment should focus on treating these organs.
COVID-19 Myths You Should Ignore
Some of the common myths related to the novel coronavirus are:
Hand dryers can kill the coronavirus
Ultraviolet disinfectant lamps can kill the COVID-19 virus
Thermal scanners can detect people infected with coronavirus even if they have no symptoms
Spraying alcohol or chlorine all over the body can kill the coronavirus
Receiving a letter or any other package from China can spread the virus
Pets at home can spread the virus
Pneumonia vaccines can prevent the novel coronavirus
Rinsing the nose with saline water can prevent the respiratory illness caused by the coronavirus
Eating garlic can prevent the infection
Sesame oil can block the virus from entering into your body
Antibiotics can kill the coronavirus
Tips for People Who Have a Travel History to Places Where COVID-19 is Rapidly Spreading
If you have recently travelled to places where COVID-19 is rapidly spreading, follow the below mentioned tips:
Stay at home if you feel you are unwell
Monitor your body temperature
Look for symptoms like running nose, headache, breathing difficulty, and sore throat and if found, contact your healthcare provider immediately
Avoid contact with others and maintain hygiene so that you cannot spread the disease to others
Inform your doctor that you have a travel history to disease affected places
Get yourself tested for the novel coronavirus
Do not use public transport and maintain social distance
Avoid crowded places like shopping malls, movie theaters
Common Do's and Don'ts for the Novel COVID-19
| Do's | Don'ts |
| --- | --- |
| Do understand the symptoms similar to the common flu | Do not touch your mouth, nose, and eyes without cleaning your hands |
| Do wear face masks if you feel unwell and experience common flu like symptoms | Do not wear a face mask if you are not unwell or have no chance of getting infected |
| Do stay at your home if you have a travel history to virus infected areas | Do not visit public places which are overcrowded so as to prevent the transmission of infection to the other people |
| Do quarantine yourself for at least a period of 14 days if you feel any disease related symptoms | Do not attend social gatherings or functions and maintain a social distance |
| Do consult your doctor if you feel disease related symptoms | Do not panic if you have been tested positive for the virus. Follow the suggestions of your doctor and maintain hygiene in every possible way. |
| Do take care of your hand hygiene and use alcohol based hand sanitizers and hand washes | Do not cough or sneeze in public without using a tissue or the crook of your elbow |
| Do keep your work places and houses clean by using sanitizing sprays | Do not plan any air travel if you suspect any symptoms of infection |
Countries With Most Number of Cases of COVID-19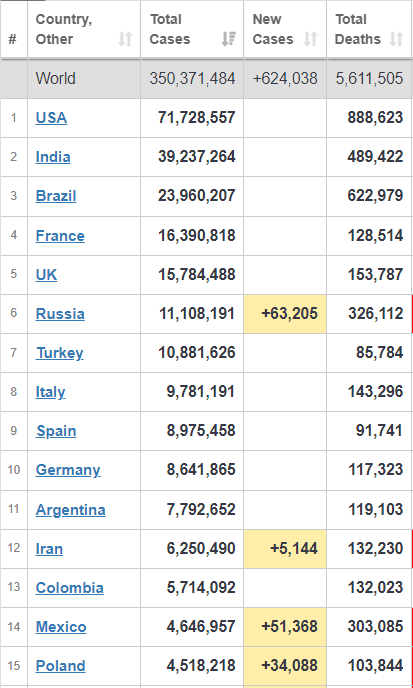 Source: Worldometers
Frequently Asked Questions