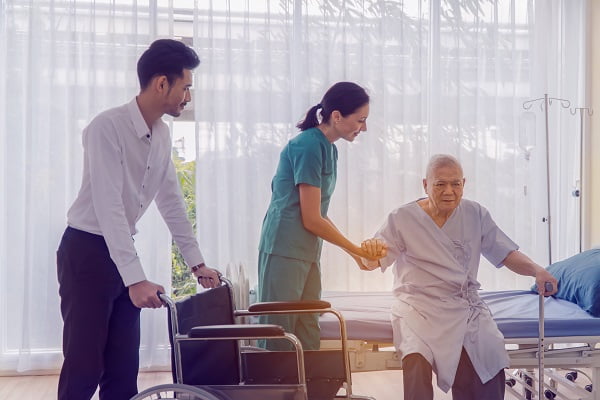 Alzheimer's disease leads to memory loss and people suffering from the condition often feel emotionally weak and distressed. In several cases, it was observed that Alzheimer's disease leads to strong psychiatric or behavioral changes. Alzheimer's patients are supposed to be sensitive. It is advisable to not talk loudly in front of them, or stay conscious of the body language, or do not use confusing statements when you are with them.
Due to emotional distress in Alzheimer's patients, it becomes difficult to comfort, relax or normalize their state of mind. Anger, anxiety, depression, fear, and loneliness, are all observed when an Alzheimer's patient suffers from emotional distress or trauma.
Does healthcare transitions lead to emotional distress and agitation in patients' suffering from Alzheimer's disease
The problems due to healthcare transition relates to the lack of proper facilities which patients encounter in daily life that result in medical errors during transitions. This is due to lack of care coordination or medical facilities that can lead to several problems with a patient. Transition care includes transitions between home, home with home health care, nursing facility, and hospitals.
Healthcare transition refers to continuity of health care during movement from one healthcare setting to another such as moving from the nursing home (or home) to the hospital, or between health care practitioners. During this period, the patient might not get all the needed facilities which might be of some discomfort.
Emotional distress on Alzheimer's patients
Emotional distress is one major problem in Alzheimer's patients. It is seen that healthcare transitions, instead of providing comfort to the patients, becomes one major cause of agitation and emotional distress. Several times in hope and need of improved treatment plan, patients are made to move from one hospital or clinic to other which becomes more discomforting as the comfort is important for an Alzheimer's patient.
Our healthcare system may not always be so efficient that it can provide suitable and needed comfort during transitions. This leads to behavior changes and stress in patients of Alzheimer disease.
It was estimated in a study that in more than 470,000 Alzheimer's patients, about 85000 patients in hospitals experienced transition due to several other medical conditions such as pneumonia, urinary tract infection, dehydration, etc. These problems can be easily treated at one place if proper facilities and healthcare standards are maintained. Transition and related stress is not only a problem for the patient but is also problematic for the caregiver.
Emotional distress in an Alzheimer's patient is not easy to treat because there is no actual drug to reduce this agitated feeling and stress or improve the patient's behavior. In fact, it is also observed that there are many psychiatric drugs with several troubling side effects which are potent enough to increase the risk of stroke, weight gain, high cholesterol, insomnia or movement disorders, etc in these patients.
Plan before transition
Transition is always worrisome for people with Alzheimer's. Therefore, certain measures can be taken to reduce stress caused during the transition. Caregivers are expected to calm their patients and provide comfort to them during a transition. Transition stress is also known as transfer trauma. Many social workers help in advocating Alzheimer's patients which prevents transfer trauma.
Although, a good way to avoid stress is to prevent healthcare transitions but in some cases it is not possible to stop such movements. Therefore, some strategies might work in Alzheimer's patients such as avoiding overstimulation, exercise to reduce depression, built companionship, planned and coordinated transition care, etc.