Spread of Pancreatic Cancer
When pancreatic cancer is at its advanced stage, it cannot be removed via surgery and the 5-year survival rate is as close as 0%. An estimate suggests that pancreatic cancer is the fourth most common cause of cancer mortality in the United States, with 5-year survival rates for patients with tumors that can be surgically removed ranging from 15 – 20%.
In the United States, approximately 45,750 deaths per year are observed due to pancreatic cancer. Another study suggests that pancreatic cancer may become the second leading cause of cancer death by 2020. Early detection and diagnosis is the best way to treat patients suffering from pancreatic cancer.
Best Screening Time for Pancreatic Cancer: Early Diagnosis
Experts bring into consideration that individuals with minor symptoms or gastrointestinal issues should undergo regular early detection tests to survey their pancreas as they can be at a higher relative risk of developing pancreatic cancer.
Who Should be Kept Under Surveillance for Pancreatic Cancer?
Pancreatic cancer can sometimes run in the genes. Individuals with a family history of pancreatic adenocarcinoma have higher chances of developing the disease.
People whose first-degree relative (parents, siblings or children) have developed pancreas cancer before the age of 50 or at least one of the second or third-degree relatives has developed pancreatic cancer (i.e. one parent and one uncle, or a sibling and a cousin) or if more than two of the second-degree relatives (aunts, uncles, nieces and nephews) have developed pancreatic cancer, are at a very high risk of suffering with the disease.
Apart from the family history, patients who have had the BRCA1, BRCA2 or PALB2 mutation, Peutz Jhegers syndrome associated with STK11 gene mutations, Familial Atypical Mole Melanoma (FAMMM), Hereditary nonpolyposis colorectal cancer syndrome (HNPCC) or Lynch syndrome are more prone to suffer from pancreatic cancer.
Apart from family history, in the general population, patients who have crossed age of 55 and have new-onset diabetes are at higher risk of developing pancreatic cancer. About 80 percent of people with pancreatic cancer are found to have diabetes or hyperglycemia. Patients with new-onset diabetes have an increased risk of being diagnosed with pancreatic cancer within one to three years of developing diabetes.
Screening Methodologies for Pancreatic Cancer
It is very important to understand the signs and symptoms of pancreatic cancer for those who are at a greater risk of developing the disease. Common symptoms of pancreatic cancer are pain in the abdomen or back, immediate weight loss, jaundice, change in stool, pancreatitis, etc.
For early diagnosis of pancreatic cancer, screening tests may vary for each individual. For pancreatic cancer early detection, a combination of medical imagining techniques is used such as a combination of Endoscopic Ultrasound (EUS), Magnetic Resonance Imaging (MRI) and Computed Tomography (CT) scans that can detect small lesions and cysts at regular intervals for people who are susceptible to pancreas cancer.
More: Real Life Experiences of Coping With Cancer
Screening for Pancreatic Cancer Can be Done With the Help of –
Blood Test for Pancreatic Cancer
On-going studies suggest that researchers are working on creating an effective screening blood test for early detection of tumor markers associated with pancreatic cancer. There are some blood tests that help in measuring hormones related to pancreatic neuroendocrine tumors (PNETs) which can be beneficial in the diagnosis of the tumor type, but there is no defined blood test to detect such tumors.
In a study, published in Science Translational Medicine, a new blood test may be able to accurately detect pancreatic cancer in its earliest stages. The test is used to measure the levels of two specific proteins in the blood. For this, identifying and validating an unusual biomarker needed in the test was also an important step.
CA19-9 is known to be the best available tumor marker to understand the progression of the disease but is only about 75% accurate in identifying patients with pancreatic cancer.
Endoscopic Ultrasonography (EUS) for Pancreatic Cancer
EUS produces images of the pancreas using ultrasound waves bouncing off internal organs. It does not involve ionizing radiation. EUS is considered to be an invasive procedure and helps diagnose lesions which might be smaller than 1 cm. One major issue with EUS is that it is operator-dependent.
Computed Tomography (CT) Scan for Pancreatic Cancer
CT scan is done to demonstrate a low sensitivity to the detection of pancreatic dysplasia. CT scan has a major drawback that its radiation exposure and the suboptimal detection rate can be harmful as a routine screening tool for asymptomatic high-risk patients.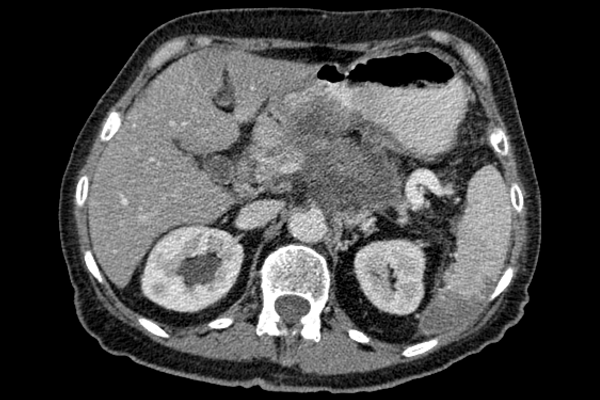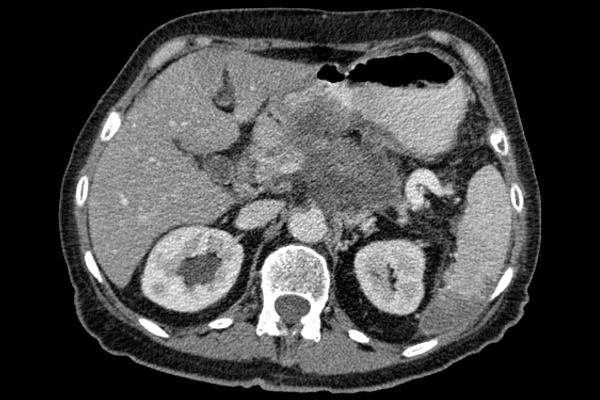 Image Credit: Wikimedia
Figure: CT scan image of Pancreas which may be at a risk of developing cancer.
Magnetic Resonance Imaging (MRI) for Pancreatic Cancer
Magnetic Resonance Imaging with Magnetic resonance cholangiopancreatography (MRCP) helps to detect earlier and small changes that occur in pancreatic parenchymal and (main) pancreatic duct. This is not found through the CT scan procedure.
MRI combined with EUS is considered to be one of the most accurate tools for pancreatic cancer screening.
Why is Early Screening Beneficial in Case of Pancreatic Cancer?
There is no defined technique or established way or tool to diagnose pancreatic cancer early. Early screening for pancreatic cancer is important because in most cases pancreatic cancer symptoms are not visible until it has reached an advanced stage and then the cancer becomes difficult to treat. In such cases, surgery is also not considered to be a beneficial option. Read about advanced stage pancreatic cancer.
New studies and further advancements are being made in the diagnostic procedures to enhance the sensitivity and specificity of screening methods for early screening and detection of pancreatic cancer. This will help in improving the outcome of pancreatic cancer.