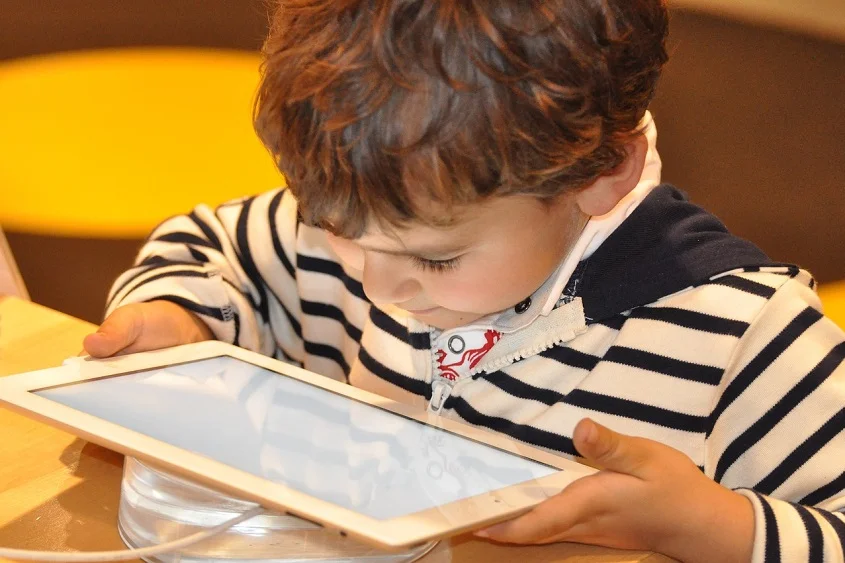 The increased reliance on technology for everyday tasks has significantly increased screen exposure for adults and children. Today's young generation spends an average of only four to seven minutes outside daily, as it has become common to prioritize indoor entertainment.
Visual and auditory stimuli in videos and entertainment shows can be overwhelming for young children, causing overstimulation of their brains. When these screens are taken away, children may experience cognitive slowing and have difficulty paying attention since their minds crave the stimulation they are used to.
Spending excessive time in a virtual world can also impact a child's interpersonal relationships and lead to feelings of loneliness. Limiting screen time can have numerous benefits for your child.
Benefits of reducing screentime
While it is an understandable fact that the modern world that is rapidly advancing in technology necessitates children to build their digital literacy skills, it is equally important to control screen time. Children with limited screen time can
Behave better.
Sleep better.
Do better in school.
Are better equipped with communication skills.
Are better at paying attention.
Can have better relationships.
Experience lesser anxiety.
Given the significant dependence of families on electronic devices, it is imperative to actively take steps towards controlling screen time. Here are some tips to help reduce screen time:
1. Infuse pedagogical skills into parenting.
Many parents and their children suffer when parents are disorientated about parenting their kids. In this quickly advancing technological era, it is high time to encourage parents to take courses like a masters degree in special education online that focus on teaching them research-backed pedagogical skills.
These skills will help you understand your children better and give you extra credits to add to your resume, which can be helpful in your career, so it's a win-win situation!
2. Practice self-control to teach self-control.
Children are highly observant and often imitate the actions and behaviors of adults around them. Therefore, if you want your child to reduce their screen time, you must first cut back on your own addiction to your phone.
You cannot expect your child to limit their screen time if you are constantly glued to your phone. By picking up a book or engaging in a healthy hobby, you can set an example for your child to follow. Their obsession with electronics will likely be reduced significantly.
3. Parental controls on devices are a godsend.
The content available on the internet is vast and often a gateway to problematic content that you would not want your child exposed to. Moreover, your children are at risk of being exposed to predatory individuals through their social media handles.
You need to understand parental controls and how to make the best use of them for your child's well-being.
Parental controls can help you to
Set time limits for usage of various applications.
Monitor the kind of content your child is watching.
Filter websites that are unsafe for them.
Monitor the website your child is visiting and for how long.
Block your child from accessing specific applications or sites.
4. Replace screen time with other activities.
If you're looking to reduce your child's screen time, one effective strategy is to offer alternative activities to occupy those timeslots. For example, you can encourage them to read a book, take them to their favorite park, or help them develop a new hobby that they enjoy.
By providing these options, you can help your child shift their focus away from screens and towards more meaningful and engaging activities.
Since the use of social media has limited face-to-face socializing, you can encourage your child to join clubs or do volunteer work that involves socializing. It will not only reduce the time they spend on their screens but also improve their self-esteem and communication skills.
5. Avoid using screens as a way to soothe your child.
It has become a common practice for parents to hand screens to their toddlers as a means of distracting them from their emotions or soothing their temper tantrums. This behavior is highly destructive and leads to emotional regulation problems in the future.
Emotional dysregulation leads to impulsivity, rapid shifts between excitement and sadness,  and sudden mood changes. When you are handing them screens, you are distracting your child from what they are feeling instead of helping them recognize their emotions and asking them what they could do about it.
6. Devise a new schedule for screen time and communicate it with your child.
When devising a new schedule for screen time, it's essential to talk with your child about why the changes are necessary. Communicating with your child will help them understand the reason behind the changes and make it easier to stick to the new routine.
It's best to make changes gradually rather than abruptly reducing a significant amount of screen time. Start by prohibiting screen time in the morning, during meal times, and before bed.
Remember, changes are easier to accept when they are gradually eased into your current lifestyle.
7. Keep some areas of the home free of devices.
Screen time should be a shared activity in a shared space. Ensure that devices aren't taken to rooms or other places like the dining hall. The best place to start restricting screens would be during meal times and before bed.
During mealtimes, your child's development is stimulated through family interaction over food. Interacting with family members during meals promotes communication skills, socialization, and cognitive development.
Therefore, eating without any distractions should be made a priority to positively impact your child's overall growth and development.
Prohibiting screen time before bed is beneficial for your child's overall well-being because the blue light from screens can disrupt the sleep cycle, as proven by research, so your child will sleep better and be more active the next day.
You can strictly limit the usage of devices to the family room only, which can help you monitor your child's activity and significantly reduce screen time.
Conclusion
Excessive screen exposure can stunt your child's development and make them susceptible to being addicted to the dopamine rush that comes from scrolling through overstimulating content.
Limiting screen time is crucial if you want your child to be physically and mentally fit, and this requires you and your children to be patient and persevere in practicing self-control.