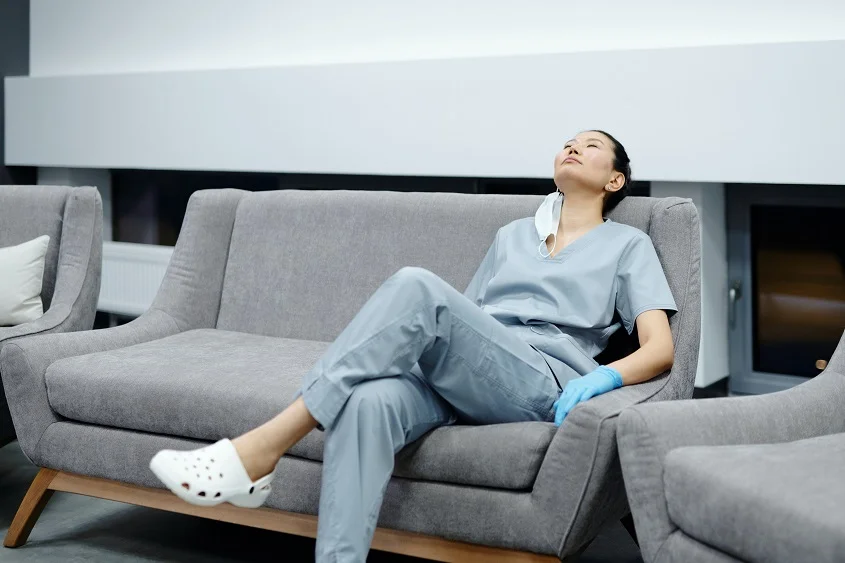 Nursing is a profession defined by compassion, dedication, and the ability to perform under intense pressure, which is why nurses are the unsung heroes of the healthcare industry. They selflessly care for patients despite frequently having to deal with extreme stress daily, which makes them the backbone of the healthcare system. Hence, it is crucial for them to ensure optimum health not just for themselves but also to deliver quality patient care.
In this article, we will look at five important stress-reduction strategies for nurses that they may use to prioritize their mental and physical health while navigating the obstacles of their careers.
1. Self Care Matters
Stress can build up quickly in the demanding field of healthcare. The emotional strain, long hours, and daily obstacles that nurses face can be detrimental to their overall health. Nurses frequently struggle to balance their personal and professional obligations, leaving little time for self-care. Furthermore, to progress in their jobs and give their patients even greater care, a lot of nurses decide to enroll in higher education programs. Although this is a noble aim, juggling career, family, and academic obligations can elevate stress levels. However, the good news is that registered nurses can enroll in RN to BSN online programs, making it easier to balance work and studies along with other obligations.
Apart from online degrees, there are other ways to prioritize self-care. This involves setting aside specific time for hobbies that refresh your mind and body. These self-care activities can be lifesavers in the busy life of a nurse, whether it's curling up with a good book, taking a hot bath, practicing yoga to find calm, or just spending time with loved ones.
It is important to remember that self-care is an act of self-preservation, not selfishness. It helps nurses refuel both physically and psychologically, which lowers stress and improves their capacity to give patients high-quality care.
2. Time Management and Organization
Setting realistic goals for each activity and prioritizing them are essential components of effective time management in nursing. The most important tasks for nurses to complete include patient evaluations, medicine administration, and patient response. Setting aside time for each work instead of multitasking and taking quick breaks in between is important to avoid burnout.
Moreover, digital tools and apps can help create schedules, set reminders, and track task progress. These tools can be customized to accommodate shifts and changing work patterns, making it easier to stay on top of responsibilities.
Additionally, workspace organization plays a significant role in stress reduction. Cluttered and disorganized workspaces can contribute to a chaotic and stressful environment. Nurses should take the time to tidy up their work areas, ensuring that essential tools and resources are easily accessible. A neat and organized workspace not only improves efficiency but also promotes a sense of calm and control.
3. Mindfulness and Relaxation Techniques
In times of extreme stress, nurses can maintain composure and calmness by using mindfulness and relaxation practices. Exercises that involve deep breathing are an easy way to get rid of stress right away. These practices not only calm the mind but also aid in controlling blood pressure and heart rate.
Another useful habit for nurses is meditation. It involves instructing the mind to remain focused and in the moment, even while everything around is chaotic. Frequent meditation sessions, even if they are brief, can enhance emotional regulation and preserve mental clarity.
Additionally, a method called progressive muscle relaxation requires tensing and then relaxing various bodily muscle groups. This technique has a relaxing impact on the mind in addition to relieving physical tension that might build up during lengthy work hours.
4. Healthy Lifestyle Choices
Nurses must have a well-balanced diet of fruits, vegetables, whole grains, lean proteins, and other critical nutrients. In addition to providing your body with nourishment, a healthy diet gives you the energy and mental clarity required to meet the demands of nursing. Reducing sugar and caffeine intake is also advised because these substances might cause energy dumps and elevated stress levels.
Regular exercise is equally essential as physical activity not only helps maintain a healthy weight but also releases endorphins, the body's natural stress relievers. Incorporating exercise into your routine can boost your mood, increase your energy levels, and improve your resilience to stress. Even short, frequent workouts or brisk walks during breaks can make a significant difference.
Making sleep a priority is also important. Because nurses frequently work erratic schedules, it can be difficult to stick to a normal sleep routine. But it's important to try to get good sleep whenever you can. Quality sleep is necessary for mental clarity, emotional balance, and physical health. It helps you deal with stressful events more effectively by allowing your body and mind to relax.
5. Lean On Your Support System
There is no denying that working in nursing may be emotionally draining. Nurses may experience emotional and psychological strain as they witness illnesses, suffering, and even death. Hence, a strong support network is essential to a nurse's well-being.
Coworkers who have experienced similar things are aware of the complexities and demands of the field. Hence, you can confide in them, exchange stories, and get guidance.
Moreover, even though they are not actively involved in nursing, friends and family can still be a great source of support. They provide an alternative viewpoint, a sympathetic ear, and a shoulder to cry on when the burden of the work gets too great to handle on your own. It can be refreshing to share one's feelings and experiences with family members who are not in the medical industry.
Remember, talking about your emotions and experiences is not a sign of weakness; it's a form of therapy. It allows nurses to process their feelings, gain valuable insights, and find renewed strength to continue providing compassionate care.
Conclusion
In the challenging world of nursing, where stress is an ever-present companion, it's crucial to remember that managing it effectively is not just a luxury but a necessity. By implementing the stress management tips outlined in this article, nurses can improve their well-being and continue to deliver exceptional care. When nurses prioritize their mental and physical health, they not only ensure their success in the profession but also in maintaining the highest standards of care for patients.