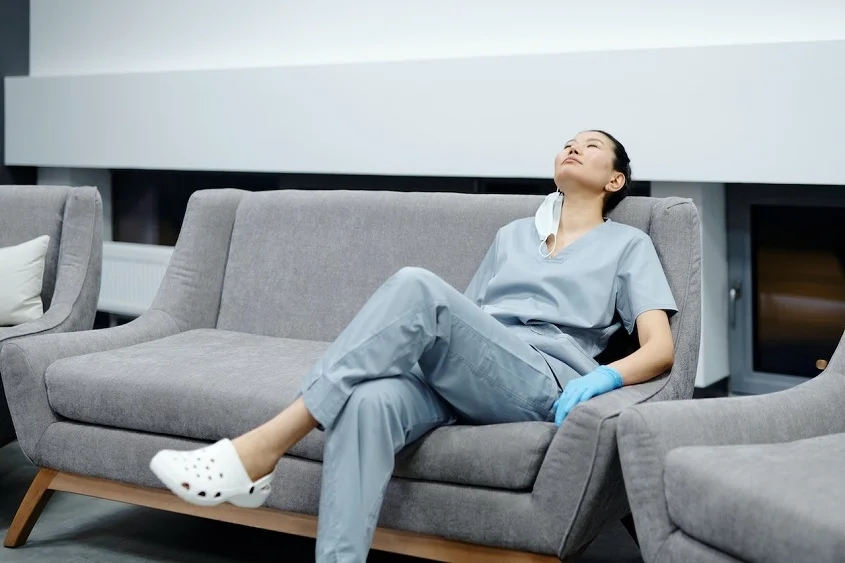 Nurses are showing increasing signs of mental fatigue because of the mounting pressure of their highly demanding jobs. With 75% of American nurses reporting burnout and 64% feeling depressed, it's clear nurses aren't getting well-deserved rest. However, just because you're dedicated to your nursing career doesn't mean you have to sacrifice your well-being.
As a nurse, you may often face long, irregular work hours, high patient loads, and intense emotional and physical burnout. These challenges can make it difficult to find time for yourself. Nevertheless, You deserve to find harmony between work and personal life. The following list contains ways to strike that balance.
Embrace work and study flexibility
Work flexibility is all about having control over your work schedule, which is crucial for nurses who face demanding and unpredictable work environments. Did you know that remote nursing jobs have increased by approximately 390% since March 2023? You have a lot more opportunities to apply for remote nursing jobs such as patient Support Nurse or Remote Patient Monitor. This job flexibility creates space for commitments like family, mental well-being, and higher education.
And speaking of education, you can also consider online programs if you can't afford to be a full-time student. Some universities, like Regis College, offer employee discounts on the tuition fee of their online courses if your employer is a partner. In this scenario, you can work as a nurse while pursuing an online MSN (Master of Science in Nursing) degree, which is a cost-effective way to save you from an overloaded schedule. An online degree will let you study at your own pace from anywhere, so you can avoid commuting to and from college, colossal investment costs, and spending time away from loved ones. Balance your career, education, and personal life with one strategy.
Plan your week 
Suppose you're a nurse rushing from one patient to another, struggling to keep track of important tasks and appointments. In that case, you need a weekly planner to define your goals and prioritize important tasks. When you schedule your shifts or personal commitments, you ensure that both aspects of your life get the required attention. It gives you control over your life, reducing the anxiety that comes with mismanagement and chaotic schedules.
To create a structured weekly plan, identify priorities such as patient care, medication administration, and documentation. Then, allocate specific time slots for each task, considering their urgency and estimated duration. A weekly planner or digital calendar can help you visualize your schedule and ensure you complete every task. You'll know what to do without getting overwhelmed once you break down your hectic week into small, manageable steps.
Time chunking 
Allocating chunks of your time to specific activities is known as time chunking. This strategy helps you dedicate your energy to high-priority tasks like patient care, documentation, breaks, and familial commitments. For example, you can save time in the morning for patient assessments and treatments, followed by a nice dinner with family. Organizing your day this way can enhance productivity, reduce distractions, and create a sense of control over your schedule.
Minimizing distractions during these periods is essential. Mute unnecessary notifications or find a quiet space to stay focused. You can also group similar tasks, such as medication administration or patient education, to streamline efficiency. Remember to include breaks and self-care activities in your schedule to recharge and prevent burnout.
Set boundaries
If you can't say no to people, you will eventually end up stuck with extra shifts or responsibilities, leaving little time for yourself. This lack of boundaries can lead to burnout and a diminished work-life balance. A blog post by Operation Happy Nurses explained that nurses often face challenges such as long working hours, emotional stress, and high patient demands. It emphasized the importance of self-care and recognizing one's limitations.
You can effectively set boundaries by communicating your availability and limitations to colleagues and supervisors. This message ensures they understand what you can reasonably handle. For example, you can express your need for uninterrupted breaks to recharge and be fully present during patient care. Remember, don't feel guilty over saying no to covering other nurses' shifts. Only help those who'd do the same for you.
Have a support system
In the demanding world of nursing, having people who understand and empathize with your challenges can make you feel less alone and overwhelmed by the stressors of the healthcare industry. A support system can include colleagues, mentors, friends, and family members who can offer guidance, advice, and encouragement.
A support system provides a safe space to share concerns, vent frustrations, and seek guidance, helping to alleviate stress and prevent burnout. You can gain valuable insights, build resilience, and create a healthier work-life balance by relying on a support system.
If you don't have anyone to call a support system, you can start building one by reaching out to your colleagues and building positive relationships with them. You can also participate in online nursing communities to connect with like-minded individuals who can become part of your support network. Remember, building a support system takes time, so be there for others for them to be there for you.
Delegate and collaborate 
Collaborating with colleagues helps you share responsibility, which builds teamwork. Nurses can pool their knowledge and skills by collaborating, which helps reduce stress and increases productivity. For example, if you have a challenging patient, you can seek input from fellow nurses and brainstorm solutions so you don't have to face the burden alone.
Teamwork and collaboration also improve the motivation and efficiency of an individual, according to a study published by the Journal of Human Resource and Leadership. So, you and your fellow nurses can help each other solve problems and boost team morale, which is essential to maintain a positive outlook in a stressful field like nursing. This collaborative approach allows you to feel supported professionally and personally, reducing stress and enhancing overall well-being.
Practice self-care 
Taking care of yourself recharges your energy and helps you cope with workplace challenges. It's essential to carve out dedicated time for self-care, even amidst a busy schedule. When you prioritize self-care, you relieve yourself from the stress of your work and focus on the present.
Nursing is an intense job with heavy responsibilities, and if you're not careful it's easy to let your own medical or wellness needs slip. That's why it's good to use conveniences where you can, be that online prescriptions for Amoxicillin, meal prep services, or smart home conveniences that help you care for your household.
Self-care includes more than just special activities or trips to the spa. It also consists of things like hydrating, remembering to eat and stretching your stiff muscles. Nurses often forget to satisfy their basic needs when caring for others. However, you can only care for others when you're in good shape yourself.
Conclusion 
As a nurse, you play an admirable role in healthcare, dedicating yourself to the well-being of others. However, it's important to remember you, too, deserve care and attention. Taking care of yourself by finding a work-life balance is crucial for your well-being and long-term professional success. By prioritizing self-care, you can prevent burnout, reduce stress, and improve your health.