When it comes to ensuring patient safety and regulatory compliance in healthcare and medical industries, the calibration of devices is a crucial aspect. Without calibration, medical equipment can present a significant risk to patient safety, causing errors that may lead to incorrect diagnoses and improper treatment.
Furthermore, regulatory compliance requirements necessitate the proper calibration of medical equipment, and failure to comply with these regulations can have serious consequences.
Calibration stickers play an essential role in the calibration process, and their usage must be adequately understood and implemented.
Lack of proper calibration of medical equipment can cause hazardous situations. Devices that have not been calibrated can produce incorrect readings and present a grave danger to patients' wellbeing.
This is why calibration stickers are paramount in the medical industry. Calibration stickers provide a vital visual cue that informs technicians and medical personnel of the last time a device was calibrated and when it is due for its next calibration.
The stickers also provide audit trails and other essential information that monitors the device's maintenance and calibration history.
The Purpose of Calibration Stickers:
calibration stickers play a crucial role in ensuring the safety of patients and regulatory compliance in healthcare facilities. These stickers are used to indicate the calibration status of medical equipment such as diagnostic and imaging machines, laboratory equipment, and monitors.
The purpose of calibration stickers is to provide healthcare professionals with a clear indication of when the equipment was last calibrated, and when the next calibration is due.
This helps to ensure that medical equipment is functioning with the greatest accuracy and precision and that it provides accurate measurements and diagnosis. By using calibration stickers, healthcare facilities can maintain accurate records of equipment maintenance and ensure that all devices meet the required standards and regulations.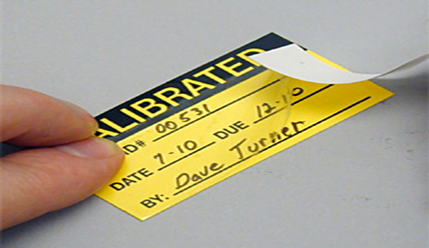 This not only benefits patients by ensuring the accuracy of medical tests and treatments but also limits healthcare facility liability by meeting regulatory compliance guidelines.
Different Types of Calibration Stickers:
Calibration stickers are an essential component in ensuring the proper functioning and accuracy of healthcare and medical devices. Calibration stickers are used to mark calibration dates, technician initials, and other information related to equipment calibration.
However, not all calibration stickers are created equal; there are different types of calibration stickers available in the market, each designed to specific requirements.
Understanding the differences between these different types of calibration stickers is crucial in ensuring patient safety and regulatory compliance. In this document, we will discuss the different types of calibration stickers used in the healthcare and medical industry, their features, and their uses.
Regulations Surrounding Calibration Stickers:
In the healthcare and medical device industries, calibration stickers serve as an essential tool for ensuring that medical equipment and devices are functioning accurately and efficiently. However, the use of calibration stickers in these industries is not only to safeguard patients but also to ensure compliance with various regulations.
Regulatory compliance is crucial for healthcare facilities as they must meet standards that are set by regulatory agencies such as the Food and Drug Administration (FDA).
The FDA requires that all medical equipment and devices used in the healthcare system meet specific performance and safety standards. Therefore, healthcare facilities must use calibration stickers that comply with FDA regulations, as well as other industry standards such as those set by the International Organization for Standardization (ISO).
Failing to follow these regulations can result in severe penalties, including fines and the potential for legal liability.
Benefits of Using Calibration Stickers:
Calibration stickers have become an essential tool in the healthcare industry to meet regulatory compliance and ensure patient safety. The use of calibration stickers allows healthcare providers to keep track of the maintenance and calibration of medical devices effectively.
By adhering to calibration schedules, hospital administrators can extend the life of their equipment, reduce downtime, and ensure device accuracy, which leads to improved patient outcomes.
Furthermore, calibration stickers provide visual cues to staff members on when a device was last calibrated or serviced and when it is due for its next calibration. This helps to eliminate errors and confusion during routine equipment checks.
In addition, the use of calibration stickers can prevent equipment failure, malfunctions, and inaccurate readings, which can result in costly legal actions and damage to the hospital's reputation.
The benefits of using calibration stickers are numerous, and they are fast becoming a standard tool in healthcare facilities to ensure patient safety and regulatory compliance.
How to Implement Calibration Stickers in Healthcare and Medical Devices:
Calibration stickers are an essential part of monitoring the accuracy and performance of healthcare and medical devices. They allow manufacturers, technicians, and quality control personnel to keep track of calibration schedules, which is crucial in ensuring patient safety and regulatory compliance.
We will also discuss the best practices for designing, printing and applying calibration stickers to different types of medical equipment, including ultrasound machines, blood monitors, infusion pumps, and more.
By following these guidelines, healthcare professionals can improve the reliability and precision of their devices, avoid costly equipment downtime, and deliver better patient care.