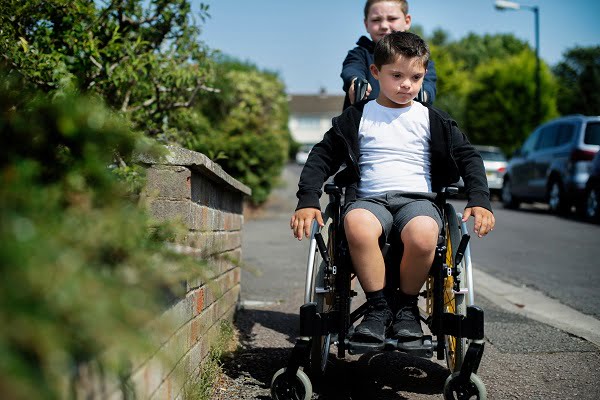 Dealing with Duchenne Muscular dystrophy
Due to certain genetic defects, progressive muscle degeneration occurs. Defect in the genes lead to lack of dystrophin protein. The function of dystrophin is to keep muscles intact. This progressive loss of voluntary muscle leads to muscular dystrophy.
A common type of muscle dystrophy known as Duchenne muscular dystrophy (DMD) is a rare disorder observed more commonly in boys than girls. It leads to weakness and atrophy of skeletal and heart muscles which ultimately is fatal.
Perception of a Duchenne patient: Feelings and experiences
Living with Duchenne is not a very pleasant and happy experience for many. When a person is disabled, lying on bed, unable to move and is completely dependent on someone, it can be quite frustrating. Sometimes, patients feel worried and experience fear when they lose their limbs and their body organs do not function properly which result in a need to use wheelchairs or respirators. Patients observe the deteriorating quality of their life and continue to feel worse due to lack of ability to do things on their own. Duchenne patients use wheel chair for movement due to loss of ability to walk. Many patients reported lung problems which made it difficult for them to breathe.
Many Duchenne patients shared their experiences with us when asked in surveys and questionnaires. Some of them were disheartening and some were overwhelming. Of course, they agree that Duchenne is devastating for any person who is diagnosed with it. But coping up is the only option.
Patients share common experiences such as inability to stand or walk, problems in talking and eating, etc. Children with Duchenne also stated that they feel uncomfortable going to school as they do not feel normal like other children because they are not able to participate in any physical activity or are dependent on someone else.
Support for Duchenne families
Many known organizations have taken the initiative to boost the confidence of Duchenne patients. With this uplifted confidence, many patients shared that they live an extraordinary life while suffering with Duchhene. They are determined to live their lives to the fullest just like other people without Duchenne. They feel that they should go to colleges, have fun, work, plan tours, etc like any other person not suffering with a rare disease or muscular dystrophy.
Self advocacy is the best therapy for self-confidence while dealing with Duchenne. It is also seen that many patients commit their lives to spread awareness about the disease.
Life as a caregiver: How it feels?
Caregivers of Duchenne deserve a round of applause for taking care and being responsible for someone who is in need. Caregivers share their experiences of how they dealt with patients of Duchenne and situations they encounter. For example, many of them said that it is a tough job to manage this responsibility but love for the patient makes it easier for them to do the job.
In most cases, caregivers are parents of the patient or other family members and face multiple challenges while dealing with these neuromuscular problems. Caregivers face problems such as physiological, socio-cultural issues but it is constantly seen that they have a positive attitude towards the patient and life. Many caregivers stated that even after facing practical complications, it feels good to take that responsibility to care. It is very rare that caregivers prefer parting from the patient.
When care-giving reaches a positive note (which may be out of love for the family member), tolerance threshold for stress in caregivers becomes nil and it does not feel like a duty or burden for them. If your family member is suffering from Duchenne, as a caregiver, you not only take care of the patient's physical needs, but also need to care of the medical expenses, living situations, managing both (your and the patient's) life.
Caregivers who are family members are the best and the most devoted care takers but for some patients, professional caregivers are hired. This may be done because parent caregivers (in most cases) are not that physically strong to hold and handle a young adult patient in certain situations or because the roles and responsibilities of the family caregivers change at some point of time. Professional caregivers are generally well groomed and know how to manage the patient and cater his needs.
One important responsibility of caregivers, friends and family is to support the patient to reduce his fears and worries by adjusting to his new lifestyle and by maintaining health and social well being.