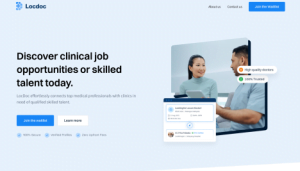 Zensite team is overjoyed to showcase their newest creation, LocDoc – a specialized healthcare job platform, tailored to serve doctors and healthcare providers seeking locum assignments. By linking healthcare professionals and medical facilities like clinics and hospitals, LocDoc seeks to transform the pursuit of temporary and short-term roles.
Essentially, LocDoc acts as an active hub where healthcare professionals can set up profiles, peruse extensive job listings, and liaise directly with potential employers. On the other hand, healthcare facilities and clinics can easily advertise job opportunities, indicating specific criteria and timelines.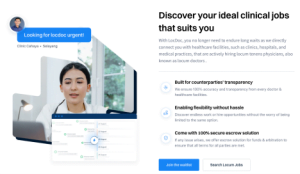 Why Choose LocDoc?
Recognizing the significant yet tough role of locum doctors, LocDoc is shaped to reduce the intricacies of job search in the healthcare sector. LocDoc aim is to simplify and enrich the experience of locum doctors, offering a wide array of job opportunities laid out with clear pay packages and unambiguous role expectations. With LocDoc, the vagueness in job searching is done away with, enabling doctors to focus on delivering top-tier healthcare services.
While they're still in the private beta testing phase, LocDoc invite doctors and clinics to join the waitlist by visiting the LocDoc homepage here.
LocDoc originated from a pressing requirement – the need for a focused platform for locum doctors scouting for contract opportunities and healthcare facilities needing locum doctors for their clinical roles. LocDoc presents itself as the prime solution – a healthcare job marketplace where proficient doctors and healthcare facilities meet to address needs.
The Team Powering LocDoc
The driving force behind LocDoc is an exceptional team originally from Zensite. Co-Founder and COO, Dr. Dhamirah Sakinah (Fay Mira), transitioned from being a medical doctor to a UX specialist in Health Tech, committed to improving the lives of healthcare practitioners. David Yap, Co-Founder and CEO, is a visionary entrepreneur with years of UI/UX design know-how, employing Tech, AI, and blockchain to innovate health tech for healthcare practitioners. Joshua Yap, the Chief Marketing Officer, applies his expertise in digital marketing, SEO, and blockchain to broaden the bridge between healthcare professionals and facilities.
The platform is prepared to debut as a web app. Although currently in the closed beta stage, registration for the waitlist is now available on LocDoc website now.