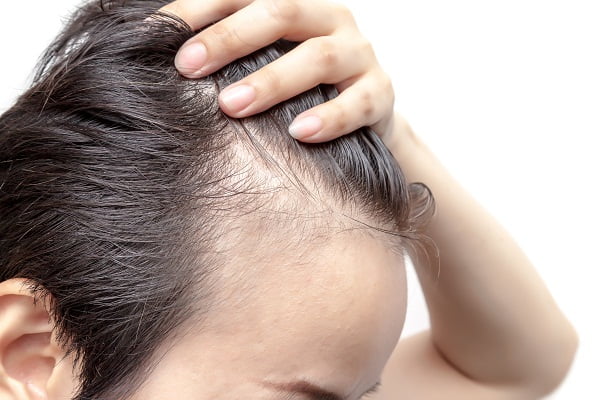 Is Dandruff Hereditary or Hormonal?
Dandruff is not hereditary. It is a hormonal issue. Dandruff, often characterized by the flaky skin on the scalp, is the result of malassezia.
Malassezia is a yeast-like fungus that is found on the scalps of many individuals. When this fungus multiplies in an uncontrollable manner, dandruff happens. This fungus irritates the scalp which makes skin cells to die. The dead cells then flake off the scalp, causing itching on the head.
Role of hormones in dandruff
Hormones play an important role in producing the natural oils (sebum) for the head. These oils are produced by glands present under the surface of the skin. Oils are essential to moisturize the hair and scalp. Here comes the role of malassezia (a naturally occurring microbe on the scalp). This microbe feeds on the natural oils of the head. This entire process of feeding produces an acid called oleic acid.
The hormones of an individual also control the production of the oleic acid. Being sensitive to oleic acid can be the root cause of dandruff. The more oleic acid is produced, the more body starts reacting to the acid by displaying the symptoms of dandruff.
It is estimated that 50 percent of the world's population which experience dandruff is because they're sensitive to oleic acid.
Hormonal imbalance
Hormonal imbalance is the main cause of dandruff in teens and adults alike. Initial symptoms of dandruff usually appear at the time of adolescence when hormonal changes take place. Hormonal imbalances can cause the oil glands to work overtime.
The excess oil production occurs because of an increase in hormones, mainly in the male androgen hormones. The hormone imbalance also makes the skin and scalp greasier which helps the dandruff flakes stick together.
Pre-menstrual stress
The dryness or the skin flakes also increases greatly with stress. One more thing that is connected to hormone imbalance is premenstrual stress. It also affects the severity of flaking.
A balance of hormones can solve the problem
When hormones are balanced, dandruff problems are much easier to control and manage. Even though controlling all the hormones in the body is quite impossible but still, some of them can be controlled by maintaining a healthy diet and lifestyle.
Home remedies to take hormonal imbalance under control
There are certain home remedies which can be adapted to have a control on hormone imbalance. They include:
Exercise
Exercises play a key role in maintaining the levels of hormones in the body. Proper exercise is essential in many ways like it helps to remove extra fat and keep hormonal imbalance under control. It is advisable to carry out exercises every morning and evening on a regular basis.
Proper diet
Diet also plays an important role in maintaining the levels of hormones actually required by the body. Hormone production gets a boost if diet free from fats is used. Other things which should be taken to stay fit and healthy and to maintain the actual level of hormones may include:
Include protein rich foods like milk, cheese, yogurt, eggs and nuts
Avoid refined sugar and refined carbs
Consume healthy fats like canola oil, olive oil, peanut oil, nuts, seeds, and avocados
Avoid overeating and under eating
Include fatty fish
Consume a high-fiber diet such as split peas, lentils, black beans, lima beans, peas, broccoli and sprouts
Include fresh fruits in diet
Drink 7-8 glasses of water everyday
Phytoestrogens rich food
Phytoestrogens-rich food is basically used to reduce the problem of hormonal imbalance. These food items should be consumed regularly to cure the problem at the initial stage. Food items that contain high amount of phytoestrogens include:
Flax seeds
Soybeans and soy products
Tempeh
Sesame seeds
Wheat berries
Fenugreek
Oats
Barley
Omega fatty acids
People having an issue of hormonal imbalance must make sure to take a diet that is rich in omega 6 fatty acids and omega 3 fatty acids. These will help to cure the problem of hormonal imbalance if taken on a regular basis.
Foods rich in omega 3 fatty acids include:
Roasted soybeans
Nuts (especially walnuts)
Canola oil
Poultry
Flax seeds and chia seeds
Foods rich in omega 6 fatty acids include:
Nuts like walnuts, pecan nuts, pumpkin seeds, peanuts and almonds
Seeds like sunflower seeds and sesame seeds
Chicken
Dairy and butter
Better lifestyle
The lifestyle of a person decides how healthy a person is both physically and mentally. Adopting a lifestyle free from stress is very important for people suffering from the issue of hormonal imbalance. A few things have to be followed in order to attain a maintained lifestyle:
A proper diet
Best types of exercises
Prohibition of alcohol and tobacco
Be happy
Be satisfied
Vitamin D
Vitamin D can help to maintain the level of hormones in the human body and its deficiency can lead to the problem of hormonal imbalance. Exact requirement of vitamin D can be fulfilled by consuming certain food items and from others sources.
Make sure to take early morning sunlight for around 20 minutes in order to increase the amount of vitamin D absorption. Other sources of vitamin D include:
fatty fish (like tuna and salmon)
Vitamin D fortified foods like some dairy products, orange juice, soy milk, and cereals
Beef liver
Cheese
Egg yolks
Restriction of caffeine
Intake of caffeine must be restricted if an individual needs to get a control over the issue of hormonal imbalance. Caffeine-rich foods that need to be avoided are:
Coffee
Protein Bars
Non-Cola Sodas
Candy Bars
Hot Chocolate